How to Create Bulk Coupons in 99minds?
Customers can create bulk coupons within 99minds in a single click! Before creating bulk coupons, make sure you have created a coupon rule. Refer this documentation to create a coupon rule in 99minds.
Create Bulk Coupons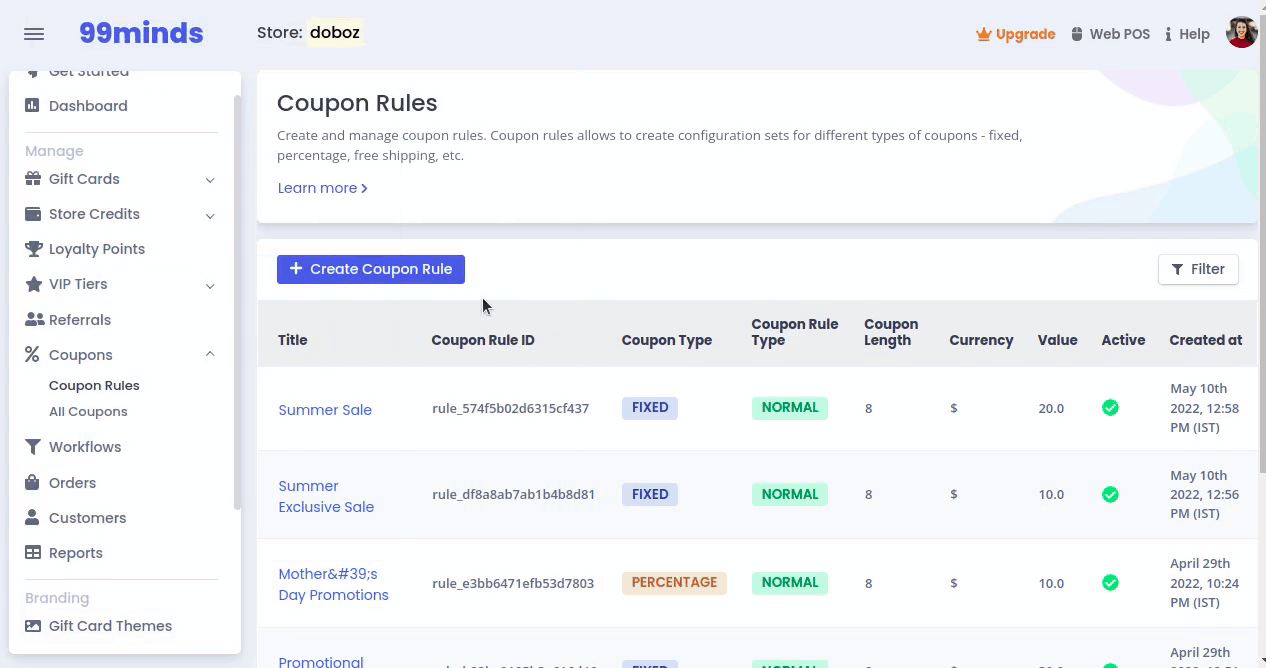 Create Bulk Coupon
Once you have created the coupon rule, follow the steps below to create bulk coupons -
Navigate to Coupons > Coupon Rules section

Select the coupon rule from the list and click on the title

In the coupon rule details screen, click Create Bulk Coupons

Enter the quantity of coupons to be created as part of the coupon rule

Click Create Coupons

The coupon will be created and the details will be displayed in the Coupons screen. To view the coupon details, click the coupon code from the list of coupons. You will see the coupon details section with detailed information about the coupon, the coupon rule information, coupon transaction details.
Import Coupons

You can also create bulk coupons by importing a CSV file. Click Import Coupons in the coupon rules details page.

Download the sample CSV. Enter the details in the CSV file and save the file.


Drop/choose the CSV file



Select whether the coupons can be issued (coupons cannot be redeemed before they are issued) or cannot be issued (coupons are automatically treated as issued and can be directly redeemed)


Select whether to skip duplicates or stop on duplicates



Click Import. The coupons will be created and will be visible in the coupon rules details page.
Related Articles

How to Create a Coupon Rule in 99minds?

Coupons are the best way to engage with customers and increase the engagement with your store. For instance, a FreeShipping coupon will allow customers to receive free shipping for their order if the amount is over a specific threshold value. ...

View and Manage Existing Coupon Rule Details

Once the coupon rule is created, businesses can view and manage the coupon rules or make changes from the Coupon Rules Details page. The coupon details page provides details on the coupon rule and the list of coupons that have been created with the ...

Viewing the Coupon Details in 99minds

Once you have created a coupon rule and created the coupons within the coupon rule, customers can view the coupon details from the Coupons section in the Coupon Rules Details screen. To view the coupon details - Navigate to Coupons > Coupon Rules ...